Back on March 4th in my blog post I wrote these words…
Maybe it's the weather.  Maybe it's just a restlessness that comes every Spring.  Maybe it's a minor mid-life crisis (although I think I'm beyond "mid-life" now, aren't I?).  Maybe it's the job.  Whatever it is, it's an unsettledness that's haunting me these days.
Little did I know at the that that "unsettledness" would lead to the whirlwind of a week, unlike one like I think I've ever had.
I was also silly enough to write…
Part of me wants to move (we've been here coming up 15 years now).  Part of me is scared to death of the effort.  ALL of me knows we need to do a massive purge.  And a huge part of me would rather write about the need for a purge, than actually DO it.  [Why do you think I'm writing this now, instead of purging?  🙂 ]

Part of me knows that the kids are growing up, and will "soon" move out (1 married and gone; 2 in the final years of school; and 1 about to finish High School and enter University!).  Part of me hates that things will change.  Part of me looks forward to what that change will bring.
At the time, we were just "unsettled", and while moving was being looked at, I never expected to move.  Nor would I ever have expected to move to a 2 acre plot of land in rural Ontario surrounded by forest and farms.  But I think God had other plans for us. 🙂
Through a whole series of weird events and situations that go back to the Summer of 2005 we have ended up purchasing a home on 2 acres of land, situated on the edge of the York Region Forest — a 4 + 1 bedroom raised bungalow with a gorgeous custom kitchen, open concept main floor, and serviced by well water & septic systems, propane instead of natural gas, and with only satellite or radio transmission access to the Internet.
The home is gorgeous, and the land spacious, but let me just articulate a few of the "God things" that have transpired to get us to this point:
Discovery: In Aug 2005, coming back from a work event at The Briars in Sutton, we encountered a beautiful log home that was for sale, but WAY out of our price range (at that time, I think they wanted $1.3Millon).  Ever since that time, we have been fascinated with that area and always dreamed of, but never expected to, move in that area.
Time for Movement: In Aug 2011 our family uprooted from our church home of 27 years and moved to the bridge in Markham.  Our 8 minute commute became 25-30 minutes and we immediately thought of moving closer.
Prompting: Nothing transpired until a few weeks ago when the house across the street from us went on sale on a Thursday, had an open house on the Saturday, and on Tuesday the SOLD sign was put up with a final sale price of $65,000 more than the asking price!  This got us thinking and looking online again.
Unusual Events: We set out criteria for what we wanted in a house — 4+ bedroom, 3+ bathroom, open concept layout in the living room and dining room, as well as trees on the property and surrounding homes.  We fairly quickly found one that was on a ravine and fit the criteria AND was only 3 minutes from the church.  The only problem was that when we asked to get a walkthrough, we discovered that this house had been sold — 8 months earlier!!!  It was a mistake in the listing.
God's Timing: In the next set of listings we looked at we discovered a gorgeous, very unique layout home, about 5 minutes the other way from the church and after ogling over the pictures one Saturday night until 12:30am we decided to contact the real estate agent to see if we could see this home that had been on the market for nearly a month.  The next morning he called back to say that they had accepted a conditional offer the night before (while we were looking at the pictures).  Another one seemingly snatched away.
Another "Accident": We then kept looking and being in no rush, I just started to browse around.  Since we had been always interested in this area we'd seen in 2005 I scrolled the map up that way expecting to find nothing, but instead finding a beautiful home that was in our price range and met the criteria, even though it had way more land than we needed.  The downsides were that it was much further north than we had anticipated, and seemingly isolated, so we put that one aside.
A BIG Accident: On March 15 we had decided to run some errands and go look at an open house close to the church of one we thought might be nice, but ended up not going because I got called on to fix dozens of systems after a major outage at the client I'm at.  We've never had that happen in the 21 months I've been there!!
Another "Accident": After looking at a LOT of homes (online), none of which met the criteria, we ended up last Sunday deciding to pop out to an open house for a home in old Markham, but after deciding it didn't fit the bill we decided to go for a 'Sunday drive' and just see how far this other one really was.  When we drove by we realized that it wasn't quite so isolated as we had thought, and the drive to church would be almost identical in terms of time.  Hmmm…. (it was an "accident" we'd even decided to drive up there.)
Pleasant Suprises: We decided on Tuesday to see if the Agent could get us into (on Wednesday) the house up north, as well as the one we'd wanted to see on Saturday, but the 2nd house was sold by then and so we were relegated to seeing our house and one other substitute that I'd found that morning.  When we went INTO our house we were floored by it's beauty, layout, functionality, and upgrades.  To make a long story short, we ended up buying it, saw God working in other ways too.
Coincident?: It turns out the Real Estate Agent, whom we had contacted when we wanted to see the house in point 5, lives right around the corner from our new house, so knew the area intimately (even though he never told us that until after we put in an offer).
Financial Protection: When we decided to make an offer, Nancy and I talked about an opening price of $20K below the listing with the intention that we could/would pay $10K less if they split the difference.  The Agent talked us into going in with a first offer of $35K below and so when they 'split the difference' on the write-back they were offering to have us buy the house at $5K less that what we had counted on.
Blessing in Disguise? It turns out Internet access might be a "problem".  Cable and DSL are not available on that street (a small cul-de-sac with only 7 homes) so it looks like either satellite or radio transmission will be our only solution.  It turns out if we need radio transmission we'll need to have a tower installed, however, we already have a 100′ TV/Radio tower on the property 🙂 Not sure at this point if we'll need it, or use it, but if we do need it, we'll have avoided a lot of expense, and if we don't need it, it will make a great platform for Christmas lights .
Emotional Healing: The emotion of the changes for all of our family has been an up and down this week.  I seemed to be the only one convinced that it was the right move, but the others kept having ups and downs.  The thing was the 'ups' were exactly when we needed to make a decision moving forward, and the 'downs' were in the lulls in between.  In the midst of all this, I think He was giving us insight into who we really are.
God's Timing Again: The final "straw" was our service at church this morning.  We went to the early service and Nancy really felt she needed to talk to someone about her misgivings and unsettledness.  When we walked in, the FIRST person we ran into was one of our pastors, who by sheer "chance" didn't have any responsibilities, and so was able to talk to Nancy through the entire first service.
Just for Us: As well, the music and message of the service were 100% what we needed to hear to assure us that God was FULLY in control of this purchase, and of our entire lives.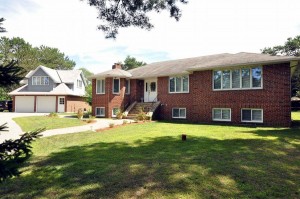 I don't know what's coming.  I don't know how He's going to work in the coming days as we prepare to sell our current home, but He's in control.  I am more than ever convinced that this transaction is in His hands and that he will lead us home.
The words we sang this morning included the chorus:
We have found our hope, We have found our peace
We have found our rest in the One who loves
He will light the way. He will lead us home
As we offer all to the One who saves us
He is indeed leading us 'home', both now and in the future to come.  May our new home be used as blessing to His people.
TTFN
PS.  My daughter posted this on her Facebook page and I thought it was very telling of how He has been teaching all of us this week.
This week has been mentally, physically, emotionally, and spiritually exhausting. Coming to the realization that in just a few months my whole world is changing. Moving into this new house as well as graduating into university. I am SO excited to own such a beautiful house with so much land; there will be endless memories there! It is also hard to leave behind the memories of my house in Scarborough. I've lived there since I was 2. It's all I know and remember and some pretty great things happened in that house. So much growth all around. But God has been incredible at providing strength, assurance, peace, hope, and the promise of his will being done, throughout (especially) this week. He's spoken through songs, messages, friends, family, scripture and more. This new home will be an expression of God's love as we have many people over to share in their company. So many changes happening at once, but I really am grateful.
TTFN