Well, I can't believe it's been 100 posts on this blog.  Not sure I've said much, but it's been fun anyway.  Today's topic… Haiti.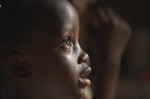 It's hard to believe that two years ago today the county of Haiti was rocked by a major earthquake and the Port Au Prince area was devastated and reduced to rubble.
According to an MSNBC report, only 1/2 of the rubble has actually been removed and there are thousands still living in tents. CNN reports that the internationally pledged funding has been slow at being disbursed.
But there's a lot of good going on as well.  Here's an article this morning on the Compassion International blog.
We can report that Compassion has completed its short-term and transitional strategies to bring immediate relief to the impacted children and their families. We provided food, safe water, shelter and medical assistance.   We worked with our church partners to get our programs back up and running, provide post-trauma counseling to the kids and the church staff, and provide shelter, desks and chairs for classes to resume. We are back to the business of caring for and developing the children of Haiti.

Now we are working on the long-term solutions. We have always been about long-term solutions. To help children in poverty develop physically, spiritually, economically and socially from their mothers' womb until they become the adults God meant them to be is a long-term solution for Haiti.

Courtesy of Compassion International: http://blog.compassion.com/rebuilding-haiti-when-will-haiti-be-back-to-normal-what-is-normal/#ixzz1jGK4Lw3j
We need to keep remembering Haiti, and pray especially that it won't be forgotten.
Haiti — a little more than an hour from Miami, but where half the children under age 5 are malnourished and the life expectancy is only 59 years. Haiti, where half the population can't read or write. And where more than half the population lives on less than $1.25 a day.   And that was before the earthquake.
TTFN