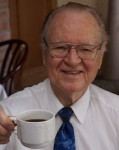 A few weeks back, before he became very ill, confused and hospitalized, my wife's father, Morley Clarke, wanted to share a few of his favourite Bible passages with the Men's Group at his church.  He was way too ill to attend, but he was wanting to continue the relationship he'd had with them by way of a series of short thoughts on his favourite scripture passages.
Since he's now in his final days (he's currently hospitalized in a paliative care hospital in London) I really want to "publish" these for wider thought.  There are 21 scriptures in all, and he's included a few thoughts with each on why he has chosen those texts.  I'm going to send them out one or two at a time over the next few weeks.
Hopefully, from these, you'll be able to see why he has been such an influence on my life and the life our family.
TTFN