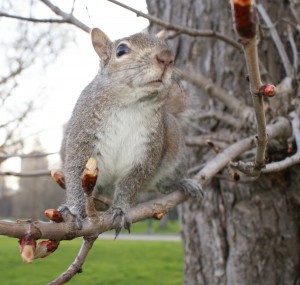 It's amazing how a few days your emotions can go up and down.  This past weekend was one of those weekends where you go from up to down to up to down again.
Late Thursday afternoon, Nancy and I drove to Niagara Falls for a "date weekend" in our favourite town (to visit, but I wouldn't want to live there).  The weather was wondeful and after checking into the hotel we walked over to the Outback Steakhouse and had a wonderful steak and prime rib dinner.  We then walked down to the Falls and had a great time getting to know a little grey squirrel quite well.  (He wanted to use MY camera to take a picture of ME, I think!)  The weather was great, and the company terrific – just Nancy and I (and a few strangers).
The next morning (after having a $13.99 Cafe Mocha and yogurt at $tarbuck$, which we calculated later would have cost about $5.25 at Timmys!) we ate a late brunch at iHop (stuffed ourselves with omlettes and pancakes — way too much food) and wondered back down to the Falls.  The weather was supposed to be rainy, but it turned out to be just wonderful (we walked around in shirtsleeves for some time and I got a little sunburn!).
We had a pass for Dave and Busters, so we battled away at various games for something completely different to do – just like being kids again, except I nearly wore myself out at the basketball shooting game where we played probably 20 rounds each head to head in friendly competition.  We even won a small stuffed elephant.
We topped the day off with a wonderful steak dinner at the Keg Fallsview with a table for two overlooking the Canadian Falls.  A great way to end a romantic weekend.
Earlier that afternoon however, we learned from Nancy's brother that Nancy's Dad wasn't doing very well, and so we decided to cut the weekend just slightly short and make a detour to London for Saturday afternoon (it was rainy in Niagara anyway) and stayed overnight and came back Sunday.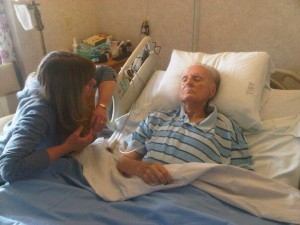 It turns out, that we didn't find Nancy's Dad quite as bad as what we'd feared.  He's weaker for sure, although his handshake was amazingly strong – pretty much his normal grip – and it was difficult to make out what he was saying a lot of the time.  However, he certainly recognized us, and called us by name when greeting us.  He watched some of a baseball game on Saturday and recounted with Nancy some of the highlights of he and Mom's trip to the Holy Land on Sunday – a trip that was taken 15 years or so ago.
It was tough to say goodbye, but after the low of Friday when we heard how bad he was, it was encouraging to see him as good as he was.  Now, lest anyone think he's getting better, that's only going to be possible with miracle, so we're under no false impressions that he'll improve, but it certainly was good to see him in as good spirits as he was (although very drowsy from the medication, and eating very little).
Back to Toronto we drove and were happily greeted by our family (and animals).
It was a great weekend, filled with even more than we'd planned.  We missed our church this morning, and learned of an old friend's passing late yesterday, but God was certainly in control of our weekend.  I am ever thankful for my wife, and the love we share; for our kids who we can trust to be left alone for the weekend without fears of finding the house in shambles when we return, and for friends who were praying as our travel plans changed.
We're praying that we'll leave Him in control of this week, and simply step out of His way and let him do the driving.  I've certainly done enough for one weekend 😉
TTFN