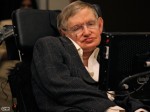 So unless you've been living under a rock these last couple weeks (or just don't have access to the Internet, in which case you're probably not reading this anyway) you've probably seen all these crazy people dousing themselves in ice cold water.  Now I know it's summer and all, but I also know that it hasn't been that hot, so what are these people up to?  Well, they are trying to raise awareness (and money) for ALS research (Lou Gehrig's Disease).
ALS (Amyotrophic Lateral Sclerosis) is
a rapidly progressive, invariably fatal neurological disease that attacks the nerve cells (neurons) responsible for controlling voluntary muscles (muscle action we are able to control, such as those in the arms, legs, and face). The disease belongs to a group of disorders known as motor neuron diseases, which are characterized by the gradual degeneration and death of motor neurons.  (Link)
It's a horrible disease.  One that most people know nothing about (including me).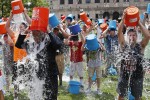 BUT… someone came up with the idea of challenging people to either cough up $100 for ALS research or dump a bucket of icy cold water over their head (or both) and then challenge three other people to do the same.
Sounds like a stupid idea, and it is.  BUT, it's working!!  According to an article I read this morning (Aug 20th)….
The Ice Bucket Challenge saw people donate $7.3 overnight and total donations has reached a total of $22.9 million, 12 times the amount raised last year according to the ALS Association! Steven Spielberg, Justin Bieber and Bill Gates are among many celebrities pouring buckets of ice water over their heads and donating to fight Lou Gehrig's disease, in a fundraising effort that has gone viral. Since June, several thousand people worldwide have recorded themselves getting drenched, then posted the stunt online and challenged others to do the same, or pledge USD 100 to ALS research. Many have done both, in an effort that has raised millions of dollars for the ALS Association, which combats amyotrophic lateral sclerosis, also known as Lou Gehrig's disease. (Link)
Of course people could give without making fools of themselves.  Of course people could give without showing off.  Of course people could give without name dropping people they challenge.  But usually they don't (at least not in this great a response).  In this case they do, and so this stupid stunt is a fantastic idea.
Wish I'd thought of it for Compassion Sponsorship 🙂
TTFN