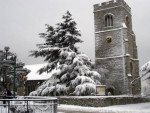 Christians are often accused of being unfriendly to outsiders.  We often treat church like a 'club' that you have to join in order to be accepted.  When we were 'church shopping' a number of years ago we based a lot of our church choosing on how welcome we were made to feel.  Sometimes the welcome was good.  Other times, a little 'off-putting'.
So an Anglican church in England, St Clements Church, Leigh-on-sea, Essex, has a welcome sign that is epic.  It's the best welcome ANY church could possibly offer and one that we ALL should offer!
The text it it is below.
"We extend a special welcome to those who are single, married, divorced, widowed, gay, confused, filthy rich, comfortable, or dirt poor. We extend a special welcome to those who are crying new-borns, skinny as a rake or could afford to lose a few pounds. You're welcome if you are Old Leigh, New Leigh, Not Leigh, or just passing by.

We welcome you if you can sing like Pavarotti or can't carry a note in a bucket. You're welcome here if you're 'just browsing,' just woke up or just got out of prison. We don't care if you're more Christian than the Archbishop of Canterbury, or haven't been in church since little Jack's christening.

We extend a special welcome to those who are over 60 but not grown up yet, and to teenagers who are growing up too fast. We welcome keep-fit mums, football dads, starving artists, tree-huggers, latte-sippers, vegetarians, junk-food eaters. We welcome those who are in recovery or still addicted. We welcome you if you're having problems or you're down in the dumps or if you don't like 'organised religion.' We've been there too!

If you blew all your money on the horses, you're welcome here. We offer a welcome to those who think the earth is flat, 'work too hard,' don't work, can't spell, or because grandma is in town and wanted to go to church.

We welcome those who are inked, pierced or both. We offer a special welcome to those who could use a prayer right now, had religion shoved down your throat as a kid or got lost on the London Road and wound up here by mistake. We welcome tourists, seekers and doubters, bleeding hearts… and you!"
ALL our churches should adopt this as their welcome statement!!  Even if you don't post it somewhere, it should be posted in ALL our hearts!  And posting it WITHOUT it being in our hearts is equally useless.
Think about adopting this for YOUR church/heart!
[In the spirit of fairness, I confess that I first saw the sign when I received the "Wednesday Link List" for July 15, 2015 from the "Thinking Out Loud" blog of a friend, and in it he linked to the blog ChrisKidd.co.uk and the post entitled "Greatest Church Welcome".  If you go there, you can see a picture of the sign itself.]
TTFN