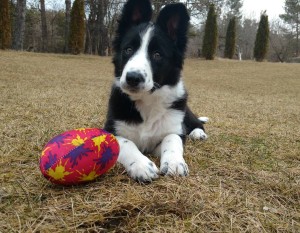 As some of you know, it's been a very 'interesting' few weeks for us in the Lahn household with some ups, and some downs.
On Friday, Feb 5th, we picked up an 8 week old Border Collie puppy that we've named Chloe. She is a joy with all her energy and we can hardly wait to have her trained and for the weather to be good enough to get outside and let her run. In the meantime, our 3000+ sqft house is barricaded off while we train her to use the outdoors. We've never trained a puppy, so this one has been a 'fun' challenge for us. She's getting there, and I think she nearly has us trained.
On Saturday, Feb 27th, Nancy's favourite Aunt, and her Mom's only sibling, passed away after a lengthy down slide. The grief, combined with the tension of explaining this to Nancy's Mom, who's memory hasn't been good, was certainly a strain, and a strain that was majorly aggravated by the fact that Nancy pulled a muscle in her back on the Sunday, Feb 28th somehow. She's had chronic back problems, but this one was/is bad and with the added tension and the strain of the visitation and funeral in Hamilton on the Thursday and Friday, has meant a very slow recovery.
Following the funeral on Friday, we received a call on the Saturday, March 5th from Nancy's Mom's residence to say that Mom had been taken to Sunnybrook Medical Centre with a suspected stroke. Sunnybrook is Toronto's stroke centre and deals with the difficult cases. We rushed down on Saturday night from Cedar Valley to find that Mom had in fact had a stroke, but fortunately, a minor one that affected her vision and some balance. (These have both cleared up for the most part). She was transferred Saturday night to North York General, where she was treated until yesterday (March 10).
With all the travelling back and forth, the uncertainty about Mom's long term care needs, and with the care of the dog, and with all the rest of life going on, Nancy's back has not improved, and rest is hard. On top of that, my work, has been extremely busy this past couple weeks, so it's been difficult to support her.
We're praying that she'll improve quickly. It helps to have an RMT / acupuncturist, who's nearly a chiropractor, in the family, and to have kids at home that can help out, and do so, when they can.
We've been blessed, and I need to keep reminding myself of that on a very regular basis.
God *IS* in control!!  (and Spring is nearly here!)