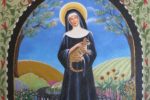 Yeah, I know it's St Patrick's Day (March 17th) but a friend informed me that it's also "St Gertrude's Day" and since my mother-in-law is Gertrude (she prefers "Trudie" though) I had to look it up.
According to Wikipedia…
Gertrude of Nivelles, O.S.B. (also spelled Geretrude, Geretrudis, Gertrud; c. 626 – March 17, 659) was a 7th-century abbess who, with her mother Itta, founded the Abbey of Nivelles located in present-day Belgium.
There is also an article about her on Junkee.com that states…
Her father was Pippin of Landen, a powerful Frankish nobleman and political operator at the court of King Dagobert I. Aged ten, Gertrude feistily refused a marriage proposal from the son of a duke, "saying that she would have neither him nor any earthly spouse but Christ the Lord."

… She died in 659 – worn out in her early thirties, says the Cambridge Medieval History, "because of too much abstinence and keeping of vigils". A visiting Irish monk, whose brother Gertrude had sheltered, predicted she would die on St Patrick's Day, and that "blessed Bishop Patrick with the chosen angels of God… are prepared to receive her".
So today may be St Patrick's Day, but you can also celebrate St Gertrude of Nivelles, the patron saint of cats, who is also the patron of travelers and gardeners, and protects against rats and mental illness.
Celebrate your day in style, Mom!
TTFN