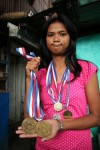 Some of you may remember the stories of Emilda Soriano who is a Compassion Sponsored Child in the Philippines.  Over the past year or so we read as Emilda strived to compete in the Special Olympics last summer.  Episode 3 of Missions In Action focusses on Emilda and shows us where she lives and what she went through to compete.
[tube]JwfxH67tZPQ[/tube]
Do you want to sponsor a child?  Check out Compassion Canada, or Compassion International today.