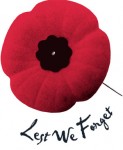 Today is "Remembrance Day" here in Canada – the day we remember those that have gone before us and fought in wars on our behalf to give us a land where we are free.  We set aside one day a year, but we need to remember the fight they fought year round.
Most of us have family or friends that have fought, and maybe died, in one of the conflicts that have kept us, or others, free.  Be sure to pause today, and every day, to remember them.
Here are a few quotes that I found inspiring for this day…
I have never been able to think of the day as one of mourning; I have never quite been able to feel that half-masted flags were appropriate on Decoration Day.  I have rather felt that the flag should be at the peak, because those whose dying we commemorate rejoiced in seeing it where their valor placed it.  We honor them in a joyous, thankful, triumphant commemoration of what they did.  ~Benjamin Harrison
and…
Although no sculptured marble should rise to their memory, nor engraved stone bear record of their deeds, yet will their remembrance be as lasting as the land they honored.  ~Daniel Webster
and of course…
IN FLANDERS FIELDS
by John McCrae, May 1915

In Flanders fields the poppies blow
Between the crosses, row on row,
That mark our place; and in the sky
The larks, still bravely singing, fly
Scarce heard amid the guns below.

We are the Dead. Short days ago
We lived, felt dawn, saw sunset glow,
Loved and were loved, and now we lie
In Flanders fields.

Take up our quarrel with the foe:
To you from failing hands we throw
The torch; be yours to hold it high.
If ye break faith with us who die
We shall not sleep, though poppies grow
In Flanders fields.
and…
WE SHALL KEEP THE FAITH
by Moina Michael, November 1918

Oh! you who sleep in Flanders Fields,
Sleep sweet – to rise anew!
We caught the torch you threw
And holding high, we keep the Faith
With All who died.

We cherish, too, the poppy red
That grows on fields where valor led;
It seems to signal to the skies
That blood of heroes never dies,
But lends a lustre to the red
Of the flower that blooms above the dead
In Flanders Fields.

And now the Torch and Poppy Red
We wear in honor of our dead.
Fear not that ye have died for naught;
We'll teach the lesson that ye wrought
In Flanders Fields.
Today, remember.
TTFN