Last Friday was Remembrance Day.  Those guys are my heroes.  Fighting in unbelievable conditions for people like me, whom they've probably never even met (or their future generations to come).
Each of us has heroes in our lives.  Some of us admire the likes of Superman or Batman; some of us consider our parents, or our spritual parents, as our heroes; some consider celebreties or sports stars to be our heroes; for some, our teachers are our heroes.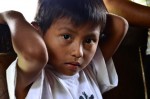 Have you ever wanted to be a hero?  It's real easy actually.  Just sponsor a child through organizations like Compassion Canada or Compassion International.  Don't believe me?  Then read this post on Shaun Grove's blog entitled "Jivinson's Hero".
Now go to the Compassion websites (Canada & International) and sponsor a child.  And write them.
You too can be a hero!
TTFN
(Photo from Shaun Groves © 2011)