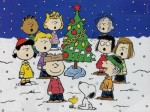 A friend of mine sent me an email the other day entitled "The only part they didn't like was all of it".  In it he highlighted some of the story behind the creation of this season's most loved television specials…. A Charlie Brown Christmas.  In his email he had exerpted from a National Review article entitled "The Gospel According to Peanuts – How A Charlie Brown Christmas almost didn't happen".  It's a fascinating read.  It starts off…
Few headlines about network television make me giddy. Fewer still make me hopeful that all is good in the world. But back in August of 2010, I read the following headline from the media pages with great excitement: "Charlie Brown Is Here to Stay: ABC Picks Up 'Peanuts' Specials Through 2015." The first of these to be made, the famous Christmas special, was an instant classic when it was created by Charles Schulz on a shoestring budget back in 1965, and thanks to some smart television executives, it will be around for at least another five years for all of us to see and enjoy.
It seems that the special was completely a rush job, with Coca Cola calling on Wednesday and wanting an outline for the story by Monday.  Then when it WAS done, there were numerous things the network folks didn't like:
there was no laugh track
the voice acting was all done by children, not adults
they didn't like the choice of Jazz music. "They wanted something more . . . well . . . young."
"Last but not least, the executives did not want to have Linus reciting the story of the birth of Christ from the Gospel of Luke. The network orthodoxy of the time assumed that viewers would not want to sit through passages of the King James Bible"
There was a standoff of sorts, but Schulz did not back down, and because of the tight production schedule and CBS's prior promotion, the network executives aired the special as Schulz intended it. But they were certain they had a flop on their hands.

"They were freaking out about something so overtly religious in a Christmas special," explained Melendez. "They basically wrote it off, like, hey, this is just isn't going to be interesting to anyone, and it's just going to be like a big tax write-off."
When the CBS executives saw the final product "they were horrified", but…
The half-hour special aired on Thursday, December 9, 1965, preempting The Munsters and following Gilligan's Island. To the surprise of the executives, 50 percent of the televisions in the United States tuned in to the first broadcast. The cartoon was a critical and commercial hit; it won an Emmy and a Peabody award.

Linus's recitation was hailed by critic Harriet Van Horne of the New York World-Telegram, who wrote, "Linus' reading of the story of the Nativity was, quite simply, the dramatic highlight of the season."

A Charlie Brown Christmas is equaled only perhaps by the 1966 How the Grinch Stole Christmas! in its popularity among young and old alike. Thank God the Grinch-like executives at CBS chose to air the special back in 1965 despite their misgivings. If it had been left to their gut instincts, we would have had one less national treasure to cherish come Christmas time.
And now, so many years later, this is one of the most endearing and wonderful Christmas specials there is.
I was sitting with a friend on Sunday, as she recouperated from some surgery, and we flipped through various "Holiday Specials".  None could hold a candle to "A Charlie Brown Christmas".  In fact, MOST were visualizations of the mass consumerism the world has come to hate about Christmas.  And almost NONE had anything to do with Christ.
Thank goodness for Charles Shultz, and his tenacity in not backing down from the network execs.
Let's remember this Christmas season to remember what Christmas is all about.
[tube]DKk9rv2hUfA[/tube]
TTFN