The other day we received a letter from the Compassion office.
I am writing you today to thank you for your loving support of Audrey Vaness Rivera Acosta.

Audrey and her family have moved to another area (of Nicaragua).  Unfortunately Audrey now lives too far from the project to attend.  As there is no Compassion representative in the area where she now lives, it is no longer possible for us to continue our ministry to her.  Audrey will continue with her studies in her new location.  Our experiece has been that families give such a move careful consideration and believe it will mean an improved situation for the entire family.  Please pray that this will be a smooth adjustment for Audrey and her family.
Audrey was the child we starting sponsoring in  August 2007 after my mother, also Audrey, passed away a few weeks earlier, so of course the next part of the letter rang very true.
We understand that you may feel saddened at no longer having Audrey as your special child and that ending this special relationship can be difficult.  Please remember your sponsorship has made a real difference in the life of this child and we trust God will use the experiences she has had with Compassion to produce a positive impact on her future.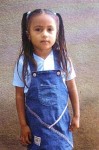 So we do pray that Audrey will make a smooth transition; that she will settle into her new surroundings and that her family will be able to prosperous in their new setting in Nicaragua.  We also pray that the time that she spent in the Compassion project, and the resources we were able to share with her, will have a lasting effect on her life!
In the meantime we look forward to the next child that God will bring our way!!
What about you?  Why don't YOU sponsor a child today and have an impact on a child, and their whole family's life.
TTFN