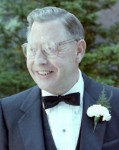 18 years ago today, my Dad passed away.  I still miss him.
He taught me so many things.  He was a great judge of people.  He was a hard worker.  He was compassionate.  He was always loving of my Mom.  He was a great guy!!
He suffered a massive stroke in May 1985, but stuck around to greet three of our four kids 🙂  I can still see him holding our oldest son in his arm and beaming from ear to ear.
Miss you Dad!!