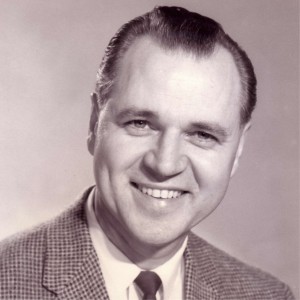 Five days ago the world lost a great man, a caring Christian pastor, a great friend, and my father-in-law. On April 27th, Rev. Morley Grant Clarke went home to be with his Lord. We rejoice with him that he is now reunited with those who have gone before him, and we grieve with those who have been left with only the memories of a wonderful man.
Morley was in his 91st year when he was overcome with cancer, but even in the midst of the disease, you would never have know that he was of such an age. Up until a couple years ago, he looked, and felt like a healthy 65 or 70 year old. When up at the family cottage in the summertime it was always him who was the last one to sit down after a mornings work (and he was always the first to start up again too!). I think any other man would have passed on sooner with what was going on, but he was so fit generally, that his body just didn't know enough to give up.
First and foremost, Morley was a man of God and he had a huge impact on my own spiritual life.  To quote from a small biography he wrote as part of a letter…
"I graduated from Victoria College in 1945, a gold medalist in Philosophy. I received my diploma from Emmanuel Theological College in 1948, and also my M.A. from the U. of T. The next year I studied at Princeton Theological Seminary, receiving my Th.M. in 1949.
"I then served several Pastoral Charges in the Bay of Quinte and London Conferences, including Metropolitan United here in London, and was President of the London Conference in the year 1986-87. I was a commissioner to seven General Councils, and was a candidate for Moderator in 1988."
He was deeply concerned about the deterioration of the denomination he loved, and on one occasion wrote…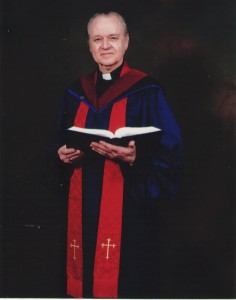 "For those who have eyes to see and ears to hear, from the beginning of our denomination in 1925, there has been a steady and inexorable regression from evangelical in the early years, to liberal in my time at Emmanuel, to the prevailing ultra-liberalism of this time. I believe that this ultra-liberalism that pervades our Theological Colleges has both caused and reflects the sad state of our denomination today. We have the dubious distinction of being the fastest declining denomination in North America! We are in a tragic downward spiral to oblivion.
"We have lost the Gospel we once faithfully proclaimed, making us into a "gelding church" that is incapable of reproducing itself. We have forfeited our very raison d'être as a Christian Church by abandoning Jesus' mandate to His Church as contained in The Great Commission.
"Honestly now, why would God honour and prosper a denomination that marginalizes His Son, and repudiates as irrelevant the clear teaching of His Word, the Apostles and Nicene creeds, and the great theological affirmations of the Protestant Reformation, and even the articles of Faith in our own Basis of Union?"
He loved his Lord. He loved his church. He loved his faith.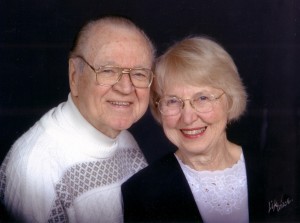 But not only was Morley a great pastor and a devout Christian, but he was a wonderful husband (married for over 63 years to his equally wonderful wife, Trudie), a great Dad (to his own four kids, but also to me after my father passed away 18 years ago) and a great-grandfather to 10 beautiful grandchildren who often have referred to him as "My Hero" (and meant it!).
Looking back through hundreds of pictures taken over the years you can see just how much family meant to him. He will always be remembered for holding and cuddling with his grandchildren as babies (and even up to the last weeks with his teenage granddaughters), or for fishing at the cottage with fake fishing poles off the end of the dock, or for laughing and rejoicing at family get-togethers.
You'll certainly be missed, Dad. Your departure will leave a huge hole at the head of the table at family dinners. We will miss your guitar playing. We'll miss your smile. We'll miss your horrible jokes 🙂 We'll miss the sage advice you've given us over the years. We'll miss the spiritual nurturing and the concerns we've been able to share over the years.
Thank you for the privilege of being able to know you, be mentored by you, and for letting me into the family when asked you for permission to marry your little girl.
We love you Dad! Until we see each other again…
TTFN
PS.  The link to the funeral home site is http://www.amgfh.com/condolences/listing.aspx?id=172484 for the obituary and online condolences.