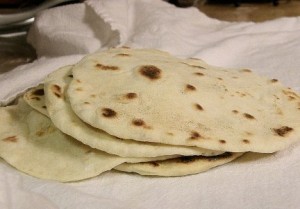 The following recipe is for flour tortillas that we make at home.  We played with a couple of online recipes to come up with one that we liked that used both white flour and corn flour.
White Flour – 4 1/4 Cups
Corn Flour – 2 Cups
Salt – 2 teaspoons
Vegetable Oil – 2/3 Cup
Water – 2 1/2 Cups
Makes 25 tortillas on our tortilla press that the kids gave us for Christmas.