Over the summer I started using my iPad to store and display my chord charts for the worship songs I play / lead in church.  It means I no longer have to fumble with paper on a Sunday morning (or while playing around during the week) and it means I always have nearly all my song charts with me all the time.  To do this, I use an app called OnSong which I highly recommend.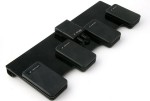 Now to make the page turns/scrolling easier I bought a wireless Bluetooth pedal system that connects to my iPad.  With it, I can do all sorts of things, but I've set it up for scrolling forward and backward, and for going to the next and previous songs.  The one that I use is the AirTurn "BT-105 on Pedal Board with 4 ATFS-2 Pedals".
When I originally bought the system from a company here in Canada, the product actually had a defective 1st pedal.  I contacted the company I bought from AND the manufacturer (AirTurn) and AirTurn got back to me within a couple of hours and within a few emails back and forth they ended up sending me a brand new system from their offices Colorado.  The new system actually incorporated some new design elements that made it more reliable.  The service was great!!
Now, this week, when I was using the system, I realized that the battery wasn't charging.  I thought I'd email them just to see if they had any suggestions on how to revive the battery and to see if I was doing anything wrong.  Within 10 minutes the co-founder and VP of the company (yeah, it's just a small company) got back to me with a suggestion and asked me to let him know what happened this morning (Saturday morning!).
Well, I tried his suggestion and it didn't work, so at about 7:30am EDT I emailed him to let him know that it still didn't seem to be charging.  His response — about 30 seconds later — was, "Okay, we'll replace it then."  No questions about what I'd done to screw it up.  No trying to get out of anything.  Heck, I didn't even ASK to have it replaced!  I just wanted to know if there was anything *I* could do to revive it.  (It seems to still function as long as it's plugged in, so I just figured I'd have to live with it that way from now on!)
So often these days Customer Service people seem to more of a filter.  Their job descriptions seems to be "Do everything you can to make sure that we (the company) don't get blamed for anything and just save us money."  This has been a great Customer Service experience.  I wish more companies were like this!
In the meantime, if you're a worship leader, or in a band where you need music, or you just like to tinker with stuff, BOTH these products — OnSong and the AirTurn pedals — and ones you should look into.  I can't recommend either product more highly!!
TTFN