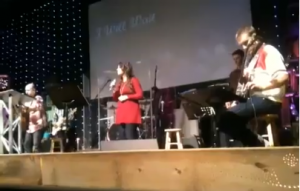 This weekend I had the privilege of being part of the Band at our church for this second Sunday of Advent.  The theme of our Advent Series has been "God Unboxed".  Last week the kids kicked the series off by showing us how God is Trustworthy, and today Pastor Trevor unwrapped for us just how Extravagant God is.  If you want to hear the message, you'll be able to later this week (probably Monday) by clicking here, but we don't usually post the music for copyright reasons.
However, the music was just so good!  I couldn't resist!!  So….. here's two versions of the medley we did as part of the message — a version of the Mumford and Sons song "I Will Wait" combined with "O Come, O Come Emmanuel" — as well as the rest of the music from the 11:15am service this morning.  Complete with banjo!!!
The recordings aren't the best, and certainly don't do it justice.  The presence of God was amazing!!  Enjoy…
---
The First Set:
Angels From The Realms of Glory
Hark The Herald Angels Sing
Enough
[audio:2012-12-09_1115am_First_Set.mp3]
---
Featured Music
I Will Wait / O Come, O Come Emmanuel
9:15am Service
[audio:2012-12-09_915am_I_Will_Wait_O_Come_Emmanuel.mp3]
11:15am Service
[audio:2012-12-09_1115am_I_Will_Wait_O_Come_Emmanuel.mp3]
---
Response and Communion
[audio:2012-12-09_1115am_All_Things_New.mp3]
[audio:2012-12-09_1115am_What_Child_Is_This.mp3]
---
Download File Dropbox Folder
If you want to download these songs, go right ahead.  Just go to the Dropbox folder by clicking here.
---
Merry Christmas & TTFN