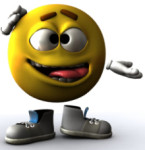 I'm seriously thinking of locking myself in my house in the country, turning off the TV and the Internet and just going into "hermit-mode" until sanity returns.  The problem is, I'm not sure if I can live long enough to see things turn around.
Am I depressed?  Not clinically, but I'm certainly sad.  Sad at what I see in the papers, on the news and in people's Facebook feeds.  For instance, a quick scan of the news today shows…
Same-Sex marriage is taking off all over the world
The Toronto School Board wants to teach that any form of consensual sex is okay — to kids!!!
The #1 movie this week will no doubt be a porn flick disguised as a the "perfect Valentines Day" chick flick
People are shooting other people over petty matters like parking spots
People are caring more about trees and seals and puppies than they are about other human beings
Politicians won't let anyone talk about God outside the church building
The mainline churches have forgotten about God
Morals seem to have gone out the window with nothing being absolute anymore
The fourth and fifth estates (journalists and the media) have forgotten all about the concept of unbiased reporting
Terrorists are shooting, beheading and burning people right, left and centre
Politicians seem more interested in "playing politics" and lining their pockets than serving the people
Wars are going on all over the world — Russia/Ukraine; Afghanistan/Iran/Iraq; Israel/Palestine/Lebanon; to name just a few
Science has forgotten about "scientific method" and prefers to "make the data fit"
I could probably go on (and on and on) but I think you get the point.
Years ago, we had a series of posters in my parent's basement.  They were the 60's equivalent of the modern meme's.  The one that I remember best haunts me to this very day….
Common sense is not so common.
For sure I'm not "depressed".  Maybe it's just "S.A.D." (Seasonal Affective Disorder)  But for sure, it saddens me. 🙁
'Til next time….
TTFN