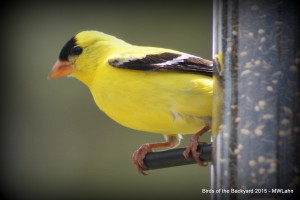 All winter long we've had our bird feeder out on the back porch.  Very few birds actually came during the winter, which very much surprised us.  Back in Scarborough, the heaviest traffic to the feeder was always in the winter.
But now that the weather is getting better (in fact the last few days were downright hot!) the birds have returned and we've seen all kinds of them.  It seems every day brings some new species.  It's been lots of fun watching and taking pictures, not to mention just sitting within 10′ and having them completely ignore you while they eat.
I decided to post a few pictures on Facebook the other night and today decided that I would keep a page on my site here that would document in words and pictures what we've spotted.  You can find the page by either going to the Photos menu (above the banner photos) and choosing "Animals of Our Property", or simply clicking HERE.
I'll try to update the page from time to time, so be sure to check back as we find more little friends.
TTFN