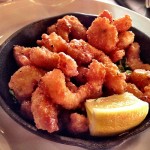 So for Father's Day my one son and his girlfriend decided they were going to make "Kapow Shrimp" for me. Now when you usually try to replicate restaurant recipes they never turn out the way the restaurant makes them (I'm still trying to make the Lin Garden Green Beans!!), however, they managed to find a recipe online from someone who works (or worked) at Montana's, where they've had the Kapow Shrimp Burger on numerous occasions.
So, needless to say they made it up and served just the shrimp with some linguine pasta. It was great!!! so we decided that we'd "save" the recipe and work on variations over time to come up with our own "Lahn Version" of the Kapow Sauce (I'm sure you could use it on chicken or other meats as well).
Kapow Shrimp

1/4 cup garlic caesar dressing
1 cup of Thai chili sauce
1 tsp of lime juice
1 tsp of cilantro
shrimp

Fry up shrimp and after they cool enough to touch, dip in the kapow sauce.
For variations we're thinking of:
extra spices / hot sauce
use it on chicken
use the sauce as part of a wrap or tortilla.
We'll see what additional recipes we can come up with.
Thanks for checking out this recipe! If you really like it, why not do me a favour and consider sponsoring a child through Compassion Canada or Compassion International. Thanks.
TTFN